Found this today while flipping through my Flipboard feeds,
Pluto TV
, which is a free Internet-based TV service founded in 2013, but which now seems to be gaining traction with the Cord Cutting community.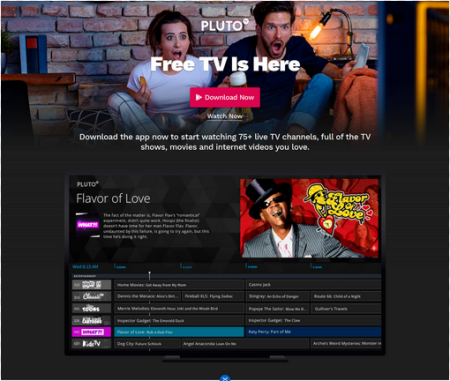 Pluto TV
boasts over 75 live TV channels; including exclusives like News 24/7, After School Cartoons, the CNET channel and more, plus they have added 15 new channels within the last few months. The service is available on most popular devices like Roku, Amazon Fire TV, Apple TV (yeah me!), and Chromecast.
I downloaded the app on my LG G Pad and toyed around with it some, watching a partial episode of
MST3K: Secret Agent Super Dragon
and my initial impression is that Pluto TV is pretty damned good for a free TV app.
Pluto TV
is 100% free, so why not try it yourself today and let me know what you think below?
You can find more information at their official website
Pluto TV
and the current lineup is
available as a PDF
.
Please follow
CordCutterTalk on Twitter
for more breaking news, guides, and reviews.