Affiliate Disclosures - if you purchase something through a link on our site, "Cord Cutter Talk" may get a small share of the sale, which helps support this site.
Free (and legal) Streaming Movies From... Your Public Library?
Another tool in the cord cutters toolbox, and an often over-looked source for media content is your local public library.
You: "Really, MY local public library?" you ask.

Me: "Yes, really!" I reply.
We're talking more than books and magazine here - available digital content may include books, music, music videos, movies and television shows - some available for download while others may be streaming only. And while your local library probably won't have the latest blockbusters available for streaming, they may have a good selection of older films, indie films and documentaries. I say "may" because it will depend on your library systems participation in various programs.
You will of course have to check with your local library; however locally in the Pima County, AZ library system I found the following options available.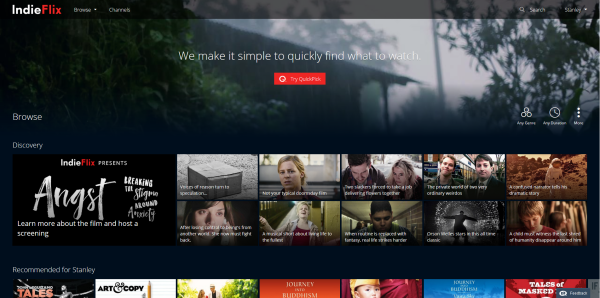 InstantFlix Movies and TV - powered by IndieFlix, InstantFlix requires the creation of an account with RB Digital, note that if if you have a public library Zinio account you already have an RB Digital account. Videos are browser based and stream directly from the IndieFlix website. From the InsantFlix/RB Digital website " Enjoy over 7,000 high-quality shorts, features, documentaries, classic TV shows and Web series from 85 countries.". I found 'Angry Nazi Zombies' available for streaming, some must see TV
PBS Video Collection - looks to be browser based streaming only, with no APP available. From their website "The PBS Video Collection This collection assembles hundreds of the greatest documentary films and series from the history of the Public Broadcasting Service into one convenient online interface. A core of 245 titles, selected for their high quality and relevance to academic curricula, covers many educational disciplines, including history, science and technology, diversity studies, business, and current events. This collection provides access to the films and series users already know and trust, including Frontline, NOVA, American Experience, Odyssey, and films by Ken Burns and Michael Wood."
OverDrive eBooks, Audiobooks, and Movies - downloaded the iPad app and signed in with my library credentials. There are 175 'Streaming Video' titles available including documentaries, travel videos, instructional videos, children's videos, TV shows (mostly Sesame Street) and more. Titles are 'borrowed' for 5 days and seem to stream from within the OverDrive app. Obviously 175 titles isn't a lot but if you have young children the availability of children's content may be of interest to you.
Out of the services available to me through the Pima County Library system, I will likely find InstantFlix of the most use to me. You will however, need to check your local library system, to see what digital media services may be available to you.