Received my
Fire TV Stick with Alexa Voice Remote
that was included with my 1 month subscription to
DirecTV Now
today in the post and although I haven't had the opportunity to experiment with the device extensively, I will give you a short run down so far and my initial impressions.
Setup of the Fire TV Stick was dead simple - unpack the minimal packaging, follow the included instructions to assemble the basic components, plug the the Fire TV Stick into the HDMI port on your TV, plug the power adapter into a nearby outlet and then power on your TV. Insert the included batteries into the Alexa Voice Remote and complete the on-screen setup to configure settings like language and WiFi settings.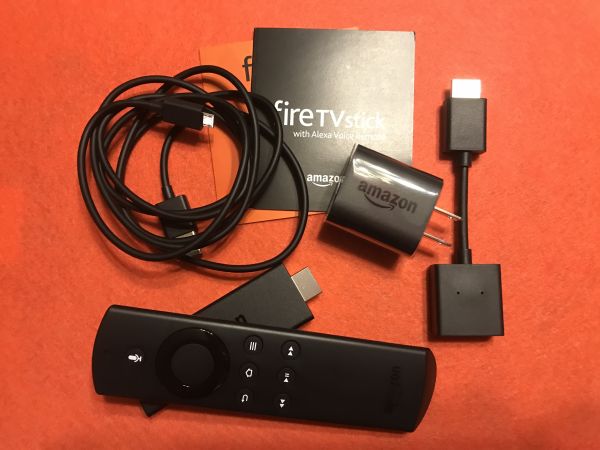 Once setup was completed and the Fire TV Stick was 'fired up' (hehe, see what I did there? OK, moving on...) the interface was clean, intuitive and responsive with a simple layout consisting of 'Home', 'Your Videos', 'Movies', 'TV Shows', 'Apps' and 'Settings'. There is a lot of emphasis placed on Amazon Prime content, which since you are buying an Amazon device sorta makes sense but some users may find it too "in-your-face".
Besides Amazon content like music, movies, and TV shows, there are apps for a variety of other services like Netflix, Hulu, HBO NOW, YouTube, Pluto TV, and more plus the ability to play casual games. The Fire TV Stick does not support 4K video, you'd have to step up to the
Amazon Fire TV
for 4K video support, but personally, I'm fine with 1080p. Also noticeably absent is an app for Vudu or Fandango Now which may be a deal breaker for anyone with a Vudu account where the Fire TV Stick is going to be their only streaming device. And naturally there is no Apple support...
Alexa Voice is where this little stick shines - Tap the mic button and can launch and control content or ask questions like "What's the weather?" and Alexa will respond instantly (provided the content or information is available). I tried several phrases like "play 90s pop" and "play Iron Man" and Alexa responded quickly, although I was sort of wondering if she would clarify which 'Iron Man' - the Marvel movie or the Black Sabbath tune, but she didn't. I also stumped her with a request for the 90s animated series 'The Terrible Thunderlizards', which apparently is not available for streaming from Amazon. Alexa can also turn on the lights, set the thermostat or otherwise interact with any other Alexa-compatible device in your home.
If you are an avid Amazon fan who has Amazon Prime or purchases a lot of Amazon content, the Amazon Fire Stick at $40 may be the best budget media devices you can buy; however if you don't have much invested in the Amazon ecosystem, or need access to one of the providers that does not have a Fire TV app - you may want to look at alternatives.
As for me, although I am an Apple TV fan and use the Apple TV extensively, I also have an Amazon Prime account, so time will tell if the Fire TV Stick was a good purchase.
MORE INFO >>>