Glitches can and will happen, or is something more sinister at play at Microsoft Movies & TV?
This February, during Oscar season, Microsoft Movies & TV ran an outstanding promotion on 30 former Oscar winning movie titles priced at $4.99 each. But that wasn't the juiciest part of this deal, on top of the deeply discounted price you would also receive a $5 Gift Card via email before March 7th, making each movie mere pennies final cost - a veritable steal!
Good deal right? ...perhaps maybe even TOO good it seems.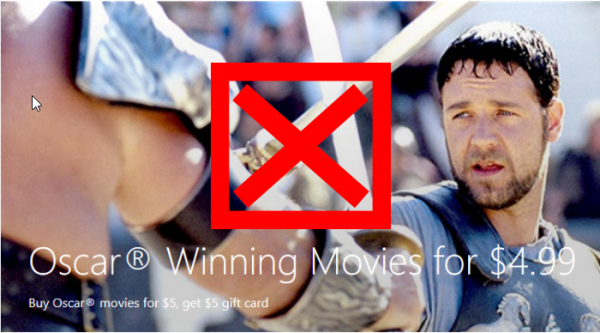 For many purchasers, gift cards began trickling in the beginning of March, well before the deadline of March 7th, in my case mine arrived on March 2nd, and all was right with the world. Upon reading the disclaimers on the gift cards and discovering the following fine print, "
Redeem by May 31, 2017 and spend within 90 days.
", I decided to wait until either I found something I wanted to purchase, or if not, wait until just before expiration to redeem. After all, the balance had to be spent within 90 days, so it made sense to give myself as long as possible to find something spend-worthy.
Fast forward to May 23rd when I saw a post by
MitchJ on Slickdeals
, the crowd sourcing deal website, that others that had also opted to wait to redeem their gift cards were finding that their gift cards were invalid. I think to myself, "Well, Microsoft is major technology company and surely they wouldn't want that kind of negative publicity would they?", and off I go to check my gift cards only to be greeted by the following disturbing message, "This link has expired. Please contact the sender of the email for more information.".
"Oh, Noes" cries I...
Even more disturbing are comments by Slickdeals members that Microsoft is being anything but helpful to rectify this obvious error, as clearly gift card recipients had until March 31 to redeem right? Unfortunately my personal experience so far has mirrored the experience of others, confronted by a behemoth of company, unable to get through to anyone with an inkling of what is going on or how to correct it. I was promised via chat a resolution within 24 hours, and although the 24 hour mark has not quite been met yet, with only 3 hours left to go, I can honestly say that I do not hold out hope that I will be contacted with a satisfactory resolution and will be forced to pursue alternative methods of resolution.
But there are 3 hour remaining on this particular clock, so we shall see.
So is this just a technical glitch, or is something nefarious going on at Microsoft Movies & TV? What say you, oh Internet?
At my signal, unleash hell! - Maximus (Gladiator, 2000)