I've spent the last couple of days digging into the
Watch! Mill Creek
digital distribution service and I am posting my initial thought and impressions. I haven't purchased any titles yet. I did however acquire two digital 'Access Codes' from the
Blu-ray.com Forums
for redemption (more on this later).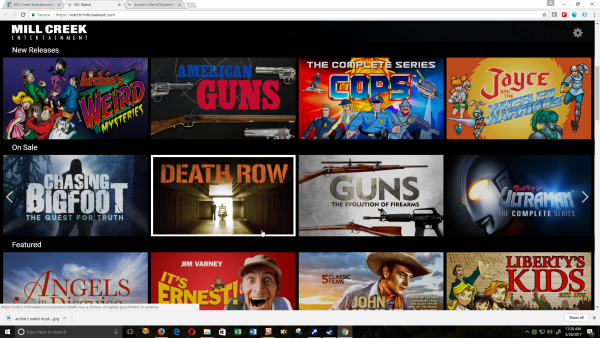 So first things first -
what is Watch! Mill Creek?
Watch! Mill Creek
is a 'streaming only' digital distribution service owned by Mill Creek Entertainment, which features nostalgic entertainment with a wide array of classic movies, retro TV shows and documentary collections. Consumers can purchase titles individually or purchase curated collections in a variety of genres including Western, Sci-Fi, Mystery, Horror, Drama and Comedy. As it currently stands,
Watch! Mill Creek
is currently 'streaming only'; however, there are references on the website that indicate that a subscription model could be forthcoming, but that remains to be seen.
Design (User Interface)
Hit
-
Watch! Mill Creek
features a slick, grid based, modern user interface design with large rectangular images depicting each title or collection broken down into categories. Each category consist of a 'slider' that you can navigate left and right to view available titles. Overall it is very visually appealing.
Misses
- What is sorely missing, is any sort of search function, or even a 'view all' type list that I can find. So, in order to find out what titles are available, you literally have to go category by category - clicking on each slider to view the next title in that category. This process is extremely cumbersome and time consuming. Another 'miss' is that how to play purchased titles isn't exactly straight forward. Frequent users of video sharing websites like Youtube may figure it out fairly quickly, but other users could be left scratching their heads on how to either play thier purchased titles, or how to enlarge them to full screen.
Pricing, Purchases, & Redemptions
Hit
- Probably the best bargain around outside of an 'all you can binge watch' subscription service. I found the pricing on the service extremely affordable, with a small selection of trailers and full titles that can be streamed free of charge, I found other single titles starting at 99c, and movie collections starting at $4.99. I obviously didn't check every title, and these may be introductory or sale prices, but what I did check seemed to be a good value.
Near Miss -
- This one could just be me. I have not been able to successfully redeem an 'Access' code that is included with some Mill Creek DVDs and Blu-rays. I obtained two codes and for each of them I had to contact Mill Creek support to have them manually redeem the code for me as their website would not let me complete the code redemption process. There is also no ability to purchase titles directly through the Amazon Fire TV App, it appears that all purchases must be made via the website first which may irritate some users.
Video Quality
Near Miss
- I've got to knock the service for video quality. First video quality isn't adequately declared for most titles, so you don't know if it is [SD] or [HD], but since most of the titles are older releases I think it's best to assume [SD] unless indicated otherwise. Additionally the single episode of "It's Ernest" that I watch seemed pixel-ated even on a 24" monitor and I didn't even attempt it on my living room TV. I'm going to watch the original "Gone in 60 Seconds" later and will update this post accordingly.
Update - I watched a partial episode of "It's Ernest" on my Sony Bravia via my Fire TV Stick and it was passable, with at least some of the video quality issues likely attributable to the source material.
Access
Near Miss
- Currently the
only
primary way to watch purchased titles seems to be via a supported browser. Apps are currently sparse, with AppleTV and Amazon Fire TV on the list for development. I could not find a Mill Creek App on my AppleTV; however, I did finally find it on my Amazon Fire Stick. A list of supported methods is available on their FAQ
https://watch.millcreekent.com/support
Account
Miss
- Account options are currently limited to six options - 'Change Name', 'Change Email', 'Change Password', 'Redeem Access Code', 'Activate Streaming Device' (Not sure what this is for as I haven't found any Apps yet), and 'Browse Content'. Yep, no billing history, no list of purchased content - what other purchase based service requires you to remember what titles you own, and to navigate the entire catalog just to find and play already purchased content Definitely another miss here.
UPDATE - Although you can pull up a list of purchases in the App on the Amazon Fire TV, it does not appear that episodes for TV shows are in order, nor do they have an Episode number listed, so make sure you have a list of Episodes, in order, for any TV show purchases. There is however; no way to display, or filter purchased items on the website though which is puzzling.
Summary
Obviously there are far more misses than hits on this list and it is hard to recommend using the
Watch! Mill Creek
service unless you are extremely value focused and willing to live with the services many quirks.
Personally, I hope that Mill Creek will continue to develop
Watch! Mill Creek
, as it has the potential to be an amazing service if they can correct all of the glaring issues and oversights.